Nebraska's offensive line has one of the deepest rooms in recent history and coach Greg Austin said this group will be able to accomplish everything that is asked of them. Head coach Scott Frost's offense and Austin, also the run game coordinator, have high demands of the offensive line.
Austin, who spoke on Sports Nightly on the Husker Radio Network on Monday night, said spring practice allowed each player to further develop his personal game and techniques.
"We took a step forward as a whole group," Austin said. "Biggest thing coming out of spring is for one, we stayed healthy which was awesome. And then above and beyond that, it was developing some depth."
Bryce Benhart and Turner Corcoran currently have the starting right tackle (Benhart) and left tackle (Corcoran) roles. Just like every position on the team, outside of quarterback, the starting spots are not solidified until Nebraska's first game against Illinois.
"Both of those guys did a nice job throughout spring ball of really owning the position and owning the technique that comes along with the position," Austin said.
Benhart started every game at right tackle as a second-year redshirt freshman and Corcoran earned his first start against Rutgers in the Huskers season-closer as a true freshman last season.
"Bryce got better with his past protection, body control, his departures out of the stance are really good and seeing the departure of the defensive end, he did a nice job with that," Austin said. "Turner, as well. He's a guy that is really going to be a technical kid. He's a really, really good technical kid. And then both of them took a step forward in terms of just finishing blocks."
Austin called Nouili a "swiss arm knife" because he can play tackle, guard and center. As for Banks, his coach said he will be taking "a lot of snaps" at tackle and guard this fall.
Matt Sichterman is one of the guards to watch during fall practice to earn a starting role but is guaranteed to contribute a lot on the field and as a leader in the offensive line group. Austin said Sichterman, who is a fifth-year senior, is resiliency to battle his way to the top of the depth chart.
Broc Bando and Ethan Piper are in the mix for a starting role. Austin said Bando, entering his fifth year, is working his tail off to make more of an impact this fall. Piper started seven games in 2020 as a redshirt freshman at left guard.
"(Piper's) working on continuing to get better at controlling his body," Austin said. "He's an explosive kid but it's just that technique and body control that we continue to work on with him. But you know, he's a guy that's going to certainly play a lot of snaps."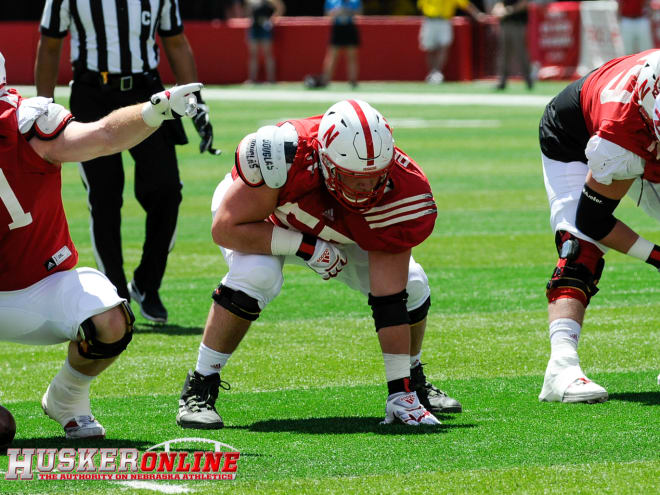 Two second-year freshmen Austin has high hopes for are Alex Conn, who be healthy this fall after recovering from a shoulder injury, and Michael Lynn. Lynn has "done a damn good job of just continually getting better on a daily basis," according to his coach.
Henry Lutovsky and Teddy Prochazka have wowed Nebraska's coaching staff during their first spring practice. Austin said both players will get at least four games of reps in the fall to retain their redshirt. It's possible for one of them to play more games depending on injuries and availability.
As for the most experienced man on the line, center Cam Jurgens has the starting center position locked down and is entering his third season as the starting center.
"Just when you think he has tapped all of his potential, he takes it up another notch," Austin said.
Jurgens and his quarterback, Adrian Martinez, have created a special bond after two years working together. Austin said Jurgens and Martinez are "as close as they've ever been," an important factor in the quarterback-center relationship.
Trent Hixson, a former walk-on who has experience as a guard, is the second-string center, according to Austin and is consistent with his snapping. He also said Hixson has a great twitch and a firm base.
Nebraska clearly has a lot of depth in its offensive line and it will be a cutthroat fall in the battle to name five starting positions. Austin said that he needs to "coach them hard and get out of the way."
"I'm pretty confident in the group and the guys that we have, being able to do the job and continue to excel, continue to get better," Austin said. "A thing I like about the guys is that they just have this mindset that every single day is just a new day, every day that they're going to get better."
Must See
Martinez said he didn't think he had Falck open. "Looking down the seam, I'm...

The Michigan State Spartans and the Nebraska Cornhuskers face off in a Big Ten...

Here are five of the biggest questions still facing Nebraska as it gets ready...
Enter ad code here